May 28, 2014
It is an old lament, particularly among Baby Boomers. What the hell happened to my baseball card collection? Most of us are pretty sure that after telling us to clean up our rooms for the millionth time, our mothers grabbed our grandfather's cigar box filled with years of cards that were saved from countless packs of stale bubble gum and tossed the whole collection into the garbage. Gone were my Rocky Colavito, my Ted Kluszewski, my Stan the Man, my I-ain't-trading Willie Mays or Mickey Mantle, the who-the-hell is Warren Giles. Here is a more modern twist on that tale of lament.
A Bu Boo
In a one-count criminal
Complaint
based upon the statements of United States Postal Services ("USPS") Special Agent Jamie Trelles, we learn that John Bu purportedly started working for the USPS in 1999 and by 2007 had become a customer services supervisor at the USPS Brooklyn Processing and Distribution Center. Ah, yes, the much vaunted customer service of the post office.
United States of America v. John Bu (Complaint, Southern District of New York, May 19, 2014)
NOTE: The charges contained in the Complaint are merely allegations, and the defendant is presumed innocent unless and until proven guilty beyond a reasonable doubt in a court of law.
According to Special Agent Trelles, between late 2008 and February 2009, an individual referred to as Victim-1 sent several packages of baseball cards and other sports cards through USPS collection boxes. At least four packages of cards were mailed to the Beckett Grading System ("Beckett"), Dallas, TX, where they were to be professionally graded according to the Beckett Grading System ("BGS") and, thereafter, the cards would have a unique serial number affixed by the grading company. Apart from the mailings to Beckett, Victim-1 also sent to an individual in Indonesia a baseball card that he had purchased. I'm not exactly sure what the card to Indonesia has to do with anything that follows but since it's in the Complaint, I am honor-bound by my duty as a blogger to inform you of this apparently immaterial bit of information because it is mentioned in the pleading.
Pujols Strikes Out
Special Agent Trelles asserts that the first package mailed by Victim-1 to Beckett in late 2008 contained 36 sports cards for grading; however, upon return to the sender, the package contained only 35 cards. The missing 36th card was determined to be a 2001 Albert Pujols baseball card graded BGS 8.5-9, serial #0004327300. Victim-1 purportedly had paid $1,538.37 for this card.
No Show
In a second package containing 13 cards mailed by Victim-1 in early 2009, Beckett claimed not to have received that mailing. Included in that mailing were:
1971 TOPPS #5 Thurmon Munson BGS BVG 9 Mint, costing $2,225;

1980-1981 Topps #634 Bird / #174 Erving / #139 Johnson BGS9 card, serial #0000080970, costing $1,005.55

1985 Lemiuex BGS 8.5, costing $191.50; and

1986 Jerry Rice #161 BGS 8.5 costing $60.01
SIDE BAR Icing Penalty: Hey, waddya want me to do? It's spelled L.E.M.I.U.E.X in the official criminal Complaint. You and I both know it's probably NHL Hall of Famer Mario Lemieux but, geez, I gotta report the stuff the way it's written, right?
The Mick
The fifth package mailed in late May/Early June 2013 by Victim-1 contained 30 sports cards for grading, including a 1956 Topps #135 Mickey Mantle BGS 5 costing $411.56; and a 1965 TOPPS #350 Mickey Mantle BGS 7, costing $315.01.
SIDE BAR: To recap, Victim-1 never received his Pujols card back in the return mailing from Beckett in 2008. In 2009, an entire package of 13 cards mailed by Victim-1 was reported by Beckett as not having been received. Finally, there is the May/June 2013 mailing of 30 sports cards for which we are not informed as to whether it was received, returned, or whatever. Oh, almost forgot, some guy in Indonesia was sent one baseball card.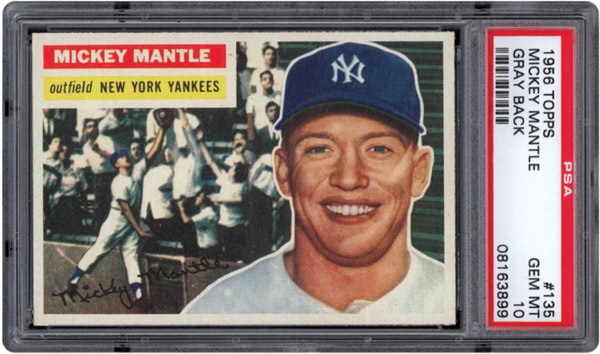 November 2013 Sales
Special Agent Trelles relates the story of Victim-2, who worked in a sports memorabilia store in Westchester County, NY in 2013. And, wouldn't you just know it, but this victim said that he met some guy at the store on multiple occasions in November 2013. Who was this visitor to the store? Well, upon being shown a photograph of Bu by Trelles, the victim confirmed the USPS customer services supervisor's identity.
As Trelles' story goes, Bu entered the sports memorabilia store around November 2, 2013, and offered to sell to Victim-2 several baseball cards, from which a sale was made for about $1,250 for a 1956 and a 1965 TOPPS Mantle card.
SIDE BAR: Oddly, it's not exactly spelled out in the Complaint, so this is an inference on my part but it appears that Bu sold to Victim-2 the two Mantle cards that were in the May/June 2013 mailing. So, here we are, some five months after Victim-1 apparently put those cards in the mail to Beckett and they are now apparently in Bu's hands. I don't know whether the sports memorabilia store had already reported that mailing as missing, whether the store was still awaiting the grading, or whether someone had simply lost track of the two cards. My guess is that by the time the feds get around to drawing up a more comprehensive Indictment or Information that the blanks will be filled in.
Around November 9th, Bu returned to the memorabilia store and sold to Victim-2 for about $5,000 the Munson; Bird/Erving/Johnson; Lemiuex; Rice; and Pujols cards. These seem to be clearly traceable back to the missing 36th card in the 2008 mailing and the entire missing 2009 mailing because of the BGS grading identifications.
Seems like Trelles has built a pretty strong case against Bu. For starters, the Special Agent alleges that he reviewed Citi Bank accounts of Bu showing deposits of $1,250 and $5,000 checks in November 2013 -- apparently making the connection to the payments by Victim-2.
During an April 2013 interview by Trelles, Bu allegedly confirmed that he collected sports cards bu only sold something like under $500 worth. At that point, Trelles apparently laid most, if not all, of his own cards on the table: the investigative findings of the missing cards, the photo identification by Victim-2, the history of matched bank deposits, and so on.
One last card hidden up Trelles's sleeve was the fact that a USPS employee referred to as John Doe 1 (who was also Bu's supervisor) was arrested in July 2011 and charged with stealing items from the mail at the Brooklyn USPS where Bu also worked.
Under questioning by Trelles, Bu admitted to purchasing cards and coins from John Doe 1 in 2008 and 2009; and, among the cards Bu bought for about $7,000 from his supervisor were cards for Mantle, Pujols, Bird, and, also for Jackie Robinson and Lou Gehrig. Trelles asserts that Bu knew that his supervisor John Doe 1 had been arrested for theft of USPS mail and he "assumed" the cards that he bought from him were stolen - which was why he wasn't exactly truthful at the beginning of the interview with the Special Agent. Bu did admit to selling some of the cards to a Westchester dealer.
SIDE BAR: As best I can tell, the bulk of the card thefts appear to have occurred in 2008 and 2009, and, it seems that either John Doe 1 personally stole the cards or, at best, received them with knowledge of their being stolen property. Somewhat contemporaneously with the theft, Bu allegedly purchased the stolen cards from John Doe 1, with knowledge that they were likely stolen. We're still left up in the air about the purported 2013 theft of the two Mantle cards. What any of this has to do with the package mailed to the collector in Indonesia wholly escapes me, but I will be monitoring whatever further revelations emanate from the Department of Justice as this case progresses.
Fouling Out
On May 22, 2014, Bu was arrested and charged with one count of possessing stolen mail, in violation of 18 U.S.C. § 1708, for which he faces a maximum prison sentence of five years.
Also READ: