August 29, 2014
You know how you figure something's foolproof? For example, I recently left for vacation and set a week's worth of articles on the BrokeAndBroker.com Blog for auto-publish. Auto-publish: as in each article has a pre-set date and time for its release. I'm figuring that I get to sit on the beach for my summer vacation and don't have to physically hit the ENTER button to upload my scintillating blog entries. It also cuts down on the friction with my wife when she sees me working rather than enjoying our time off.
In theory, a great idea. In practice, however, oh crap! As my wife and I are sitting under the umbrella at the beach, my cellphone starts ringing with warnings from many readers that only a fragment of the Blog had printed. Now you have to understand that my wife isn't exactly thrilled with the fact that I have brought my cellphone to the beach to begin with. On more than one such trip to the beach, she has threatened to throw my beloved iPhone into the water if I didn't stop taking calls and surfing the Internet.
Don't get me wrong. I LOVE the beach. On the other hand, you need to understand that I am a fading young man in his early sixties and, okay, let's be honest here, I'm not quite average height. Think of a fire hydrant to get a sense of my build and stature.
For many years, they made sensible bathing shorts. Even for a short guy like me, a pair of swim trunks still hit about mid thigh. You should have seen me in my collection of swimsuits with prints featuring fish, flowers, and garish colors. I cut quite the figure on the beach.
Then, for some reason, fashion dictated that shorts were no longer short but some horrific thing that is called a board short. On a short guy like me, a board short looks like long pants. On a guy like me, a board short sends his wife into hysterics. I can't believe you bought those!
So, you know, what the hell am I supposed to do? They don't make anything other than board shorts and that's what I have to buy for the beach. It was bad enough as a kid having to roll up my cuffs on my blue jeans (or dungarees as we called them), at least that passed for fashion in some years.
So, resigned to wearing a bathing suit that comes down to my ankles, I decided to buy the most outlandish ones that I could find. This year, while my phone was ringing with calls about the broken article on my blog, I featured the ever-popular shark motif, which every well-dressed lawyer on the beach should be wearing this year. I have posted a picture of my fashionable board shorts. A litigator's dream!!!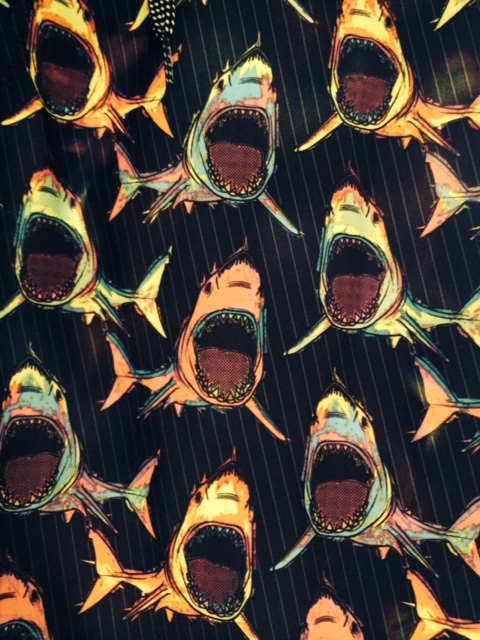 In any event, dressed in my spiffy shark shorts, I managed to re-write the missing blog.
Case In Point
In a Financial Industry Regulatory Authority ("FINRA") Arbitration Statement of Claim filed in January 2014, registered representative Claimant Harmon sought the expungement of a July 1, 1990 customer complaint from her Central Registration Depository records ("CRD") and $50 in compensatory damages. In the Matter of the FINRA Arbitration Between Teresa Sue Harmon, Claimant, vs. Wells Fargo Advisors, LLC, Respondent (FINRA Arbitration 14-00161, August 12, 2014).
Respondent Wells Fargo Advisors did not object or oppose Claimant's requests.
Calling Pru Bache




A sole FINRA Arbitrator conducted a telephonic hearing on July 24, 2014, and Respondent's counsel attended but did not oppose the requested expungement. Moreover, Claimant's lawyer confirmed that all parties with any remaining affiliation with Claimant's former employer, Prudential Bache Securities, Inc., were given notice of the expungement application and were served with the pleadings. Apparently none of those Prudential Bache parties objected.
SIDE BAR: Yeah . . . let's do a quick recap. The registered rep Claimant sought the expungement of a 1990 customer complaint. 1990 as in nearly a quarter of a century ago! Respondent Wells Fargo Advisors did not object to the requested relief. Oh, and let's not forget the reappearance of Pru Bache, as some of us old timers used to call it (anyone recall Bache Halsey?).
Missing Settlement Agreement
In deliberating over Claimant's request, the Arbitrator did not review the Settlement Agreement involving the 1990 customer complaint. The lack of review seems predicated upon the circumstance that no copy of that agreement was located. Notwithstanding, the Arbitrator noted that she had considered, among other factors:
three articles in The Wall Street Journal titled "Prudential-Bache Inflated Partnership Payouts," "Prudential's Limited-Partnership Woes Seem Near End as Legal Pact Advances" and "Prudential Unit to Settle SEC Charges"
The FINRA Arbitrator recommended the expungement of the 1990 customer matter from Claimant's CRD. The rationale provided for that decision was that:
[C]laimant claims to have done her due diligence at the time and that the advice followed was due to serious misrepresentations from top management of the firm.
The Arbitrator denied Claimants request for $50 in compensatory damages.
Bill Singer's Comment
According to online FINRA records as of August 29, 2014, Harmon was first registered in 1983, so we're dealing with an industry veteran here. The customer complaint that Harmon sought to have expunged has clearly been a thorn in her side for many years. Consider, for example, her "Broker Statement" in response to the original 1990 customer complaint (and this response may soon be removed in accordance with the Arbitration expungement recommendation); spelling and punctuation as set forth in FINRA's online record:
WITHOUT ADMITTING LIABILITY MATTER WAS SETTLED FOR $50,000.00.

I AM UPSET THAT MORE AND MORE CLIENTS IN TODAYS SOCIETY ARE HOLDING THEIR INVESTMENT ADVISORS AS RESPONSIBLE PARTYS FOR THEIR INVESTMENTS PERFORMANCES. THE [CUSTOMERS[ WERE SUITABLE FOR THE INVESTMENTS IN QUESTION - RECEIVED PROSPECTUSES - AND EVEN INVESTED MORE MONEY INTO ANOTHER VMS PROGRAM - BECAUSE THEY LIKED THE FIRST ONE SO WELL. WHILE I'M NEVER HAPPY WHEN A CLIENT'S EXPECTATIONS DON'T MEET WITH ACTUAL INVESTMENT RESULTS, I AM NOT THE RESPONSIBLE PARTY FOR THE DEMISE OF THE VMS INVESTMENT - WHICH WAS CONSIDERED A LOW RISK INVESTMENT AT THE TIME 00 AND EVEN GIVEN A TOP RATING BY STANGER & CO. I AM, HOWEVER, ALSO A VICTIM -- SINCE I NOT ONLY GET THE BLAME FOR THIS -- BUT ALSO INVESTED SOME OF MY OWN MONEY IN THE SAME INVESTMENT -- AND LOST TOO! I PROTEST THAT THIS HAS TO GO ON MY RECORD.
How long ago was 1990? See if these oldies refresh your recollection.
FASHION UPDATE
For all you wise asses with unsolicited comments about my physique and my dazzling beach appearance in board shorts, I offer this reply!
This is how I think I look in board shorts:
This is how I think others think I look in board shorts: