March 3, 2016
Once again the gaze of the BrokeAndBroker.com Blog falls upon a Financial Industry Regulatory Authority settlement involving a stockbroker who got a verbal go-ahead from some customers to exercise trading discretion. Unfortunately, as we have written with some regularity, oral authorization is often worth the paper it's not written on.
Oh, and another thing, FINRA seems to have lost today's featured Respondent in their high-priced, highly-touted BrokerCheck database. Oh my! But, don't fret, oh no, BrokeAndBroker.com's publisher Bill Singer has solved the puzzle. Oh, say can you see? Okay, Bill did. OMG, it was quite a hunt to figure out what was wrong In the end, it came down to an "O" and an apostrophe. You may enjoy reading about Bill's hunt and chase, which lasted into the wee hours of the evening. Oh, what a night!
Case In Point
For the purpose of proposing a settlement of rule violations alleged by the Financial Industry Regulatory Authority ("FINRA"), without admitting or denying the findings, prior to a regulatory hearing, and without an adjudication of any issue, Robert F. O'Keef submitted a Letter of Acceptance, Waiver and Consent ("AWC"), which FINRA accepted. In the Matter of Robert F. O'Keef, Respondent (AWC 2014040938602, February 23, 2016).
O'Keef had entered the securities industry in 1974 and became registered in 1989. By 2006, he was registered with FINRA member firm RBC Capital Markets, LLC, where he remained until April 2014. The AWC asserts that O'Keef had no prior relevant disciplinary history.
654 Discretionary Transactions
The AWC asserts that during the relevant time from October 1, 2012 to January 23, 2014, O'Keef effected about 654 discretionary transactions on behalf of four RBC customers. The AWC concedes that those customers "had orally authorized O'Keef to exercise discretion in their securities accounts."
During the relevant time, RBC prohibited the use of discretion for the customer accounts at issue. Moreover, applicable NASD Conduct Rule 2510(b) required that a registered representative obtain prior written authorization from a customer in order to exercise discretion and that the employing member firm approve such trading, which did not occur. RBC terminated O'Keef as a result of the discretionary trading.
Sanctions
FINRA deemed O'Keef's conduct to constitute violations of NASD Conduct Rule 2510(b) and FINRA Rule 2010. In accordance with the terms of the AWC, FINRA imposed upon O'Keef a $5,000 fine and a 15-business-day suspension.
Bill Singer's Comment
Alas, for all of FINRA's regulatory prowess, the self-regulatory organization is still bedeviled by cyberspace and the bizarre nature of the Internet. In an effort to look up Respondent O'Keef's online FINRA BrokerCheck records, I entered "Robert F. O'Keef" but was informed that there were "No Results." Odd, I then entered "Robert O'Keef" but was again informed that there were "No Results." Finally, I just entered "O'Keef" but couldn't find "Robert F.". The BrokerCheck system kept advising me:
Not willing to give up, I went back to the AWC and entered O'Keef's Central Registration Depository Number, which was 351684 and, lo and behold, this Respondent's name had somehow been transformed by FINRA (or was entered into the AWC wrong in the first place) from O'Keef to Okeef!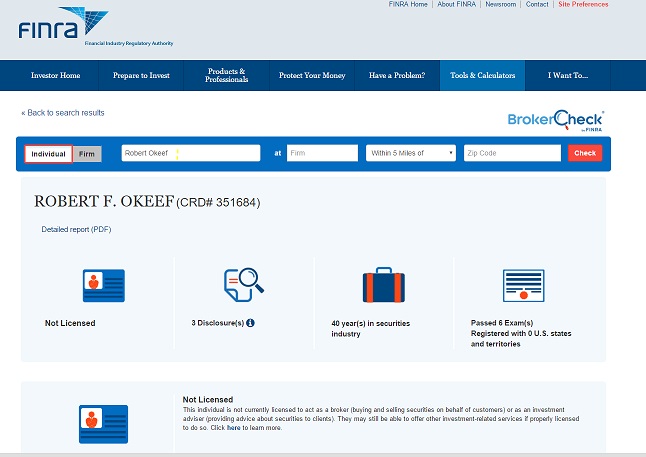 The odd thing about the BrokerCheck records for "Okeef" is that the references to him by name in the online document are to "O'Keef". Why FINRA doesn't have a search device that would yield "Okeef" for "O'Keef" and "O'Keef" for "Okeef" is an interesting question but I will leave that for more technically adept folks to grapple with. Now that the self-regulatory organization is aware of both the specific data entry error and the inability of its search device to discern between "Okeef" and "O'Keef" perhaps the glitches will be fixed. Maybe I will get a Certificate of Appreciation or a Letter of Commendation? Absent that, perhaps the good folks at FINRA will take down that dartboard with my face on it or, at best, stop throwing darts at my image for one full business day.
In any event Okeef's or O'Keef's o
nline FINRA
BrokerCheck
records as of March 3, 2016, disclose under the heading of"Other Business Activities":
ARBITRATOR FOR NASD SECURITY DISPUTES AS INDUSTRY ARBITRATOR. I DEVOTE 3 HOURS A MONTH TO THIS. 2 HRS DURING SECURITIES TRADING HRS. THIS HAS NO END DATE AT THIS TIME
Settled Customer Complaint
Under the BrokerCheck section for titled "Customer Dispute - Settled," RBC disclosed that on April 10, 2014, the firm had settled a customer complaint received on February 25, 2014, which alleged:
CUSTOMER FEELS THAT TRADING ACTIVITY IN A JOINT ACCOUNT WAS TOO HIGH IN 2013. HE ALSO NOTED HE DID NOT SPECIFICALLY GIVE AUTHORIZATION FOR MANY OF THE TRADES.
Of the reported settlement amount of $15,000, BrokerCheck states that O'Keef's "Individual Contribution Amount" was $15,000
RBC Discharge
The BrokerCheck report further discloses that on April 11, 2014, RBC "Discharged" O'Keef based upon allegations that:
ON MARCH 24, 2014 O'KEEF ACCEPTED AN OPTION ORDER FROM THE CLIENT'S SPOUSE WITHOUT THE CLIENT'S WRITTEN AUTHORITY TO DO SO. CLIENT DID NOT OBJECT TO THE TRANSACTION WHEN CONTACTED AFTER THE FACT.
Under the heading of "Product Type" involved, RBC characterized it as:



COVERED CALL FOR CLEAN ENERGY FUELS CORP.



OOOOOOOOOOOOOOOOOOOOOOO'h, What a night!


Reprinted below is FINRA's Conduct Rule 2510: Discretionary Accounts, which imposes a simple compliance regime of prior written authorization by the customer coupled with the firm's written acceptance. Upon placing a duly authorized and approved discretionary trade, a member firm must undertake prompt written approval of each discretionary order; and, further, must frequently review all discretionary accounts to ensure that the transactions are suitable. That's about as straightforward a regulatory proposition as you could imagine.
Note that Rule 2510(d)(1) carves out an exception for Time And Price discretion - T&P comes into play when there's a customer order "for the purchase or sale of a definite amount of a specified security" but for the exercise of time and price discretion by the stockbroker. T&P is an effective order ONLY "until the end of the business day on which the customer granted such discretion . . ." In the old days, there wasn't such an intra-day limit on T&P, which is why the one-business-day limit trips up a number of industry veterans.
NASD Conduct Rule 2510. Discretionary Accounts




(a) Excessive Transactions




No member shall effect with or for any customer's account in respect to which such member or his agent or employee is vested with any discretionary power any transactions of purchase or sale which are excessive in size or frequency in view of the financial resources and character of such account.




(b) Authorization and Acceptance of Account




No member or registered representative shall exercise any discretionary power in a customer's account unless such customer has given prior written authorization to a stated individual or individuals and the account has been accepted by the member, as evidenced in writing by the member or the partner, officer or manager, duly designated by the member, in accordance with Rule 3010.




(c) Approval and Review of Transactions




The member or the person duly designated shall approve promptly in writing each discretionary order entered and shall review all discretionary accounts at frequent intervals in order to detect and prevent transactions which are excessive in size or frequency in view of the financial resources and character of the account.




(d) Exceptions




This Rule shall not apply to:




(1) discretion as to the price at which or the time when an order given by a customer for the purchase or sale of a definite amount of a specified security shall be executed, except that the authority to exercise time and price discretion will be considered to be in effect only until the end of the business day on which the customer granted such discretion, absent a specific, written contrary indication signed and dated by the customer. This limitation shall not apply to time and price discretion exercised in an institutional account, as defined in Rule 3110(c)(4), pursuant to valid Good-Till-Cancelled instructions issued on a "not-held" basis. Any exercise of time and price discretion must be reflected on the order ticket;




(2) bulk exchanges at net asset value of money market mutual funds ("funds") utilizing negative response letters provided:




(A) The bulk exchange is limited to situations involving mergers and acquisitions of funds, changes of clearing members and exchanges of funds used in sweep accounts;




(B) The negative response letter contains a tabular comparison of the nature and amount of the fees charged by each fund;




(C) The negative response letter contains a comparative description of the investment objectives of each fund and a prospectus of the fund to be purchased; and




(D) The negative response feature will not be activated until at least 30 days after the date on which the letter was mailed.
Also READ
: